Elaine McCusker
Published: July 26, 2023
Should the federal government save at least $1 billion annually in taxpayer money while delivering better service, more choices and lower costs to active and retired U.S. military members and their families?
How could the answer to this question be anything other than "yes?"
So, why have we not done it?
The Department of Defense operates 236 commissaries — defense-speak for grocery stores — in 13 countries and 2 U.S. territories. These grocery stores have a long tradition, dating back to 1825 where they started on Army bases so Army officers could make purchases for their personal use while paying at-cost prices. The stated purpose, eligibility and management of the commissaries has evolved over the last 198 years and is now managed by the Defense Commissary Agency, or DeCA. The next evolutionary iteration is long overdue.
As with many historical programs set up to provide convenience and support to military families located in austere locations, the commissaries are now seen more as an earned benefit. That is fine. If the commissaries are to be considered a part of the overall military compensation package, they should be as good as they can be in delivering service and cost savings to patrons while maintaining budget-neutral operations for the taxpayer.
But according to numerous reviews, studies, and assessments over the last decade, the commissaries are not currently meeting any of these three objectives.
First, delivery of services. According to a recent General Accountability Office, or GAO, study DeCA's sales of groceries and other goods have fallen over $1 billion in the past 6 years. Service members and their families have many, better choices and are signaling with their shopping habits that they prefer the convenience, selection, service and products available in commercial grocery stores that are more readily available than ever.
As Senate Armed Services Committee Chairman Reed noted at a 2021 Defense Writers Group event, "outside the gate of every base I've been to lately, there's either a Costco or a Walmart, so there is some appeal to the military audience."
Second, cost savings to patrons. The same GAO study noted that DeCA claims to deliver an average discount of 23.7% over other stores, but needs roughly a billion dollars in annual federal funding to do that.
And it is not even certain that estimated average savings of is accurate. The House Defense Appropriations Committee expressed concern that DeCA has not implemented GAO recommendations to calculate customer savings more accurately.
Third, the commissaries are hardly self-sustaining. DeCA finances the operating costs of commissaries, areas, and headquarters activities primarily with a direct appropriation managed through a working capital fund. DeCA's reliance on this appropriation has increased from $1.15 billion in 2021 to $1.45 billion in the 2024 request. A 26% increase is not exactly a self-sufficient path.
In summary, defense commissary sales are down. Choices and services are limited, prompting patrons to go elsewhere. And costs are up.
Change is overdue. Granted, change can be scary. And we don't want to incur even more additional costs or risk diminished benefits to service members their families and retirees.
There is a solution. Unleash the commissaries from government control, use the free market, and leverage the supply chains, distribution networks, and management expertise of successful, national commercial grocery stores. We should not hesitate to test this solution through an immediate pilot program in the U.S.
One such pilot, proposed by the MARC Group, could be conducted to compare the commissary benefit provided by DeCA to a top-10 commercial alternative supermarket at no cost to the taxpayer. It would take place at a military base with equal-sized commissaries within miles of each other, such as Fort Liberty in North Carolina.
The pilot would include an empirical test designed to provide real data to determine if a supermarket chain can operate base grocery stores more efficiently and deliver greater savings, quality and selection.
The supermarket chains available for participation in the pilot currently operate 7,500 stores with over $80 billion in sales. For comparison, DeCA operates 177 stores in the U.S. with $4 billion in sales. Key services and attributes such as employment opportunities for families, on-site free childcare, and store hours would be included. Data collection would include customer satisfaction and be overseen by a top-ranked accounting firm.
The recent debate on the budget deal along with comments and priorities during markup of the fiscal year 2024 defense funding and policy bills make clear Congressional interest in finding savings while providing full quality of life support to the military.
The Defense Department should immediately use existing authorities to conduct a pilot to unleash the commissaries from government control and provide better service to eligible patrons at no cost to the taxpayer.
Elaine McCusker is a senior fellow at the American Enterprise Institute. She is a former acting undersecretary of defense (comptroller).
Source: MilitaryTimes
Published: June 29, 2022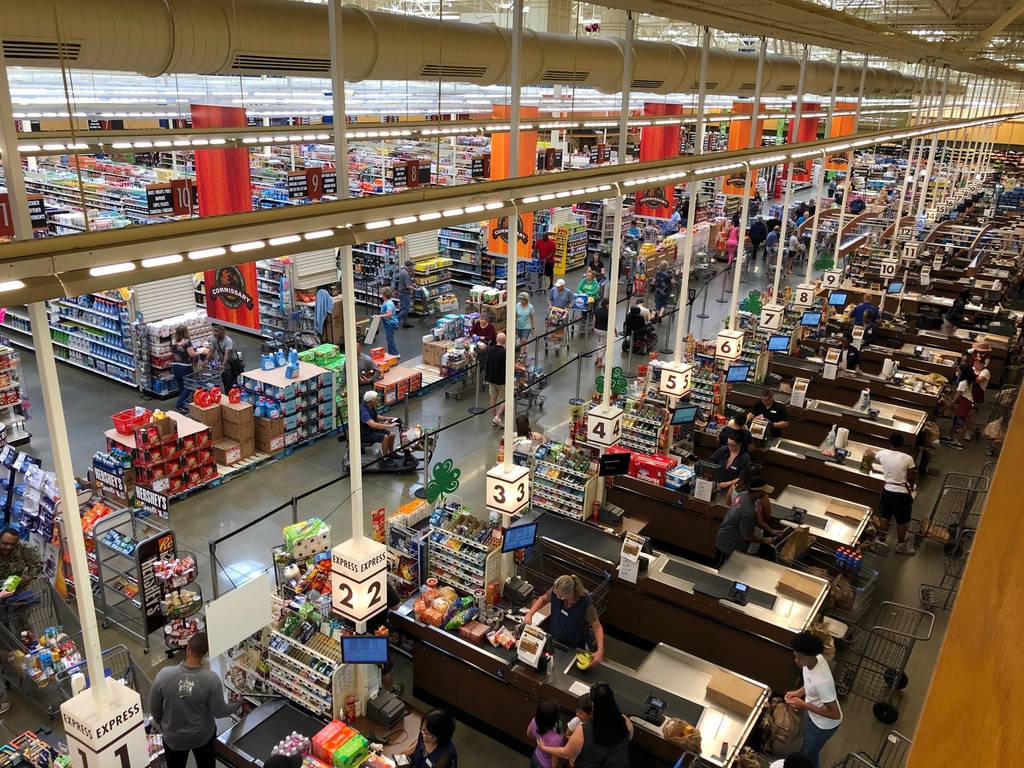 [Editor's note: This story has been updated to correct the amount added to the commissary's budget by House lawmakers.]
The military commissary system is suffering from an identity crisis, according to government auditors. Are military stores a benefit or a business?
The two primary objectives of the Defense Commissary Agency are competing against each other — providing a benefit to service members through savings on groceries, yet operating like a business and marking up prices to reduce the amount of taxpayer dollars it requires, according to a Government Accountability Office report released Tuesday.
Defense Commissary Agency officials agreed there is an "inherent tension" between maintaining customer savings and generating a profit margin, and that "DeCA likely cannot meet both the target of 23.7% savings rate and reduce its reliance on appropriations through margin as intended," the report stated.
The auditors also raised questions about the way commissary savings are calculated, the amount of savings customers are actually getting, and how reforms have affected those savings. Congress and DoD decision makers "don't have the assurance that DeCA is meeting its savings target and that commissary customers are reliably receiving their intended benefit," auditors found.
DoD and Congress need to clarify the benefit the commissary should provide, auditors stated. Savings for commissary customers in the continental U.S. have been consistently lower than the global target of 23.7%. In 2021, the CONUS commissary savings rate was 17.7% compared to commercial retailers outside the gate. And the overall global savings rate missed the 23.7% target in 2021, with an overall savings rate of 22.5%.
"In this time of rising prices and DoD efforts to reduce food insecurity, the ability of DeCA to provide service members, their families and retirees reduced-price groceries is especially important," the auditors stated.
DeCA also needs to fix the way it calculates savings for commissary customers overseas, auditors said. While the method for calculating CONUS savings is reliable, auditors said, they described the current overseas method as both "unreliable and inaccurate." Stateside commissary customers account for 81% of commissary sales worldwide, and get consistently less than 23.7% savings overall. But the overseas savings rate has consistently been calculated at 42% or higher, which the GAO says is an unreliable number, Moreover, the global commissary savings average gets propped up by the savings numbers in the overseas commissaries. DeCA only meets its global target by relying on the savings rate in commissaries outside the U.S.
The commissary agency's calculated customer savings rate for fiscal 2021, with weights:
Commissary officials changed to a savings calculation method using the overseas Cost of Living Allowance in 2017, because a consulting firm hired to support their business reforms, Boston Consulting Group, advised them to do so. So the commissary agency has been relying on data associated with the COLA to calculate the savings rate OCONUS, although the COLA reflects more than just the price of groceries bought in overseas locations, the auditors stated.
Commissary reforms have affected savings
Some reforms DoD started implementing in the commissary agency in 2017 have been in competition with customer savings, auditors noted. Before that time, by law, commissaries sold products at cost plus a 5% surcharge, so that the cost of operating commissaries wasn't included in the price customers paid. The commissary system received about $1.7 billion in taxpayer dollars in 2012 to operate the stores, but over the past several years it's been about $1.2 billion. The 5% surcharge customers pay is used primarily for renovation and construction of stores.
Since 2017, the agency has used variable pricing, a pricing method used by commercial grocery stores to set prices over the cost of the product, thereby generating a profit margin. The goal is to create some profit margin in order to reduce the amount of taxpayer dollars that are used to operate commissaries.
Therein lies the conflict. GAO auditors noted that "lowering prices to increase savings decreases DeCA's margin, while raising prices to generate a greater margin reduces customer savings."
Family advocates have questioned the system of marking up commissary prices, noting that in the past, customers could rely on the price of their commissary products across the board to be at the cost from the supplier plus 5%. "Now isn't the time to try to turn a profit, especially with the high inflation and supply chain issues," said Kelly Hruska, government relations director for the National Military Family Association.
She said she appreciates GAO's deep dive into the issue. "Families are struggling. We need to be looking at every area where we can save families money," she said.
Lawmakers have asked DoD to stop requiring commissaries to generate a profit, in order to provide some relief for military families from rising food prices.
The commissary agency needs to analyze the tradeoffs associated with meeting one of these competing objectives over the other, auditors said. That will help Congress make informed oversight decisions to provide clear direction on how to best provide the benefit. Those tradeoffs would specifically identify the customer savings rate and related benefits, such as the number, location and operating hours of commissaries. They also recommended DeCA improve its strategic plan; the current plan is lacking in key business reform efforts and lacks information needed to implement and measure success, auditors found. In its response to GAO, DoD officials agreed with the recommendations.
A provision passed by the House Armed Services Committee would add another $500 million to the commissary budget for fiscal 2023. It must make its way through the legislative process, but it would help the commissary agency avoid tradeoffs to provide the benefit for the troops, said Steve Rossetti, president of the American Logistics Association, an organization whose members include suppliers to commissaries and exchanges. That congressional action "would solve a key problem identified by the GAO," he said. "The committee recognized that tradeoffs shouldn't have to be made, especially in an era of inflation and food insecurity."
Pointing to the need for more documentation about the success of commissary reforms, GAO auditors noted that commissary sales have fallen by more than $1 billion over the past six years — from about $6 billion in fiscal 2015, to about $4.4 billion in FY 2021 — as those reforms were being implemented. Currently, only 1.5 million out of 8 million eligible customers shop at the commissaries regularly.
"It is clear that the reform efforts imposed upon DeCA have failed to achieve the desired results," said Tom Gordy, president of the Armed Forces Marketing Council, which represents more than 400 manufacturers who supply goods to military stores. "From the beginning, DeCA was put in a no-win situation, and those most adversely affected in this experiment have been military families who need the savings the most."
Source: MilitaryTimes
Published: June 28, 2022
Fast Facts
Highlights
Recommendations
GAO is making three recommendations to DeCA to review its OCONUS customer savings rate methodology, conduct an analysis that identifies the savings rate and related benefits it can achieve at varying levels of appropriations, and improve its strategic plan. GAO is also making a matter for congressional consideration to clarify the benefits DeCA should seek to achieve. DOD concurred with all three recommendations.
Matter for Congressional Consideration
Recommendations for Executive Action
Full Report
GAO Contacts
Elizabeth Field
Director
fielde1@gao.gov
(202) 512-2775
Office of Public Affairs
Chuck Young
Managing Director
youngc1@gao.gov
(202) 512-4800
Source: GAO
Patricia Kime
Published: May 3, 2023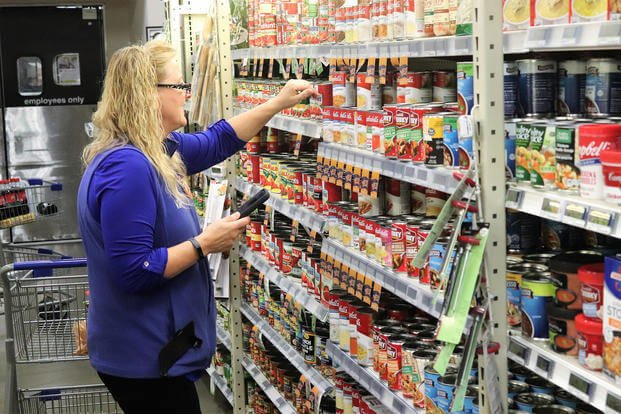 The expansion of a popular grocery delivery program to all military commissaries in the U.S. is on hold while Defense Commissary Agency officials explore how to ensure it is economically feasible for customers, delivery providers and the government.
Commissary spokesman Kevin Robinson said Tuesday that the cost of Click2Go delivery has risen and more research is needed to find a "sustainable and cost-effective" long-term delivery solution before the program can grow.
The pilot program, an extension of the agency's Click2Go curbside pickup program, was introduced a year ago to eight stores in major markets and is set to run through at least June 1.
Read Next: Pentagon Sends 1,500 Active-Duty Troops to Border as Pandemic Immigration Restrictions End
Delivery fees originally were $3.97 per trip, but beginning March 1, the prices skyrocketed to a minimum of $10.99, depending on installation, for those who live one to five miles from a store, and to $29.99 for deliveries 16 to 20 miles from a store.
Delivery fees from popular grocery stores such as Walmart or Giant depend on the size of the order, ranging from $6.95 to $9.95, with discounts for memberships. Other options, such as Instacart, also offer an annual fee for an unlimited number of deliveries for orders that meet a minimum limit.
According to the Defense Commissary Agency website, the delivery fees for Click2Go were set by the contractor and not the Department of Defense. The chief executive officer of ChowCall, one of two food delivery companies that was awarded the contract last year, told Military Times that the financials were "very difficult to make it work" and that he's been working with the Defense Commissary Agency, or DeCA, to find solutions.
"My interpretation is that they're trying to find that sweet spot of how to make it viable for a contractor while staying true to their mission of improving quality of life for service members, families and other authorized commissary customers," CEO Todd Waldemar told the publication, which first reported the price increases and delay.
ChowCall was awarded the contract alongside the delivery company Rivet, which left the program in February. Waldemar did not respond to requests by phone or email for comment.
Nearly 20,500 orders were filled under the Click2Go delivery program between May 18, 2022, and March 31, amounting to nearly $2.4 million in sales. The service was most used at Fort Belvoir, Virginia, with 5,013 orders, and was least popular at MacDill Air Force Base in Tampa, Florida, with just 975 orders during the time period, according to DeCA.
System-wide curbside pickup and home delivery have been long-term goals for DeCA leadership to ensure that the stores remain competitive with civilian grocers. DeCA launched curbside pickup in 2019 at 12 stores, but it accelerated the timeline for expansion during the pandemic, with all 236 commissaries offering online ordering and pickup as of late 2021.
Originally, there was a $4.95 fee for pickup orders, but that was waived during the pandemic to encourage use, and the fee has not been reinstated.
Click2Go curbside pickup is an enormously popular program, with orders tripling from 77,000 in 2021 to 246,000 in 2022, according to DeCA. To date, more than 96,000 orders totaling $14 million have been made.
Commissaries, which are subsidized by up to $1.4 billion per year by the federal government, provide groceries at discounted prices to service members, retirees, family members and disabled veterans. The stores must provide a baseline savings level for customers, currently 25% less than community stores, as measured by the "local market basket average," calculated through surveys of stores in surrounding communities.
This doesn't mean all items cost one-quarter less than a consumer would find at a civilian store, but it is based on price comparisons with stores, including supercenters like Walmart.
Commissary shoppers also pay a 5% surcharge, which covers the cost of construction, maintenance and renovations.
Defense Department officials say they're seeking solutions to address the rising prices of grocery delivery and, in April, issued a solicitation seeking ideas, insights and practices from those who deliver groceries in the civilian space.
DeCA had plans to meet with relevant companies April 21 to discuss.
"DeCA has placed delivery expansion on hold as the agency performs additional market research to determine a delivery model that best supports our patrons," Robinson said.
In addition to Fort Belvoir and MacDill Air Force Base, Click2Go delivery is available at Scott Air Force Base, Illinois; Fort Bragg South, North Carolina; Naval Station Norfolk, Virginia; Joint Base Lewis-McChord, Washington; and Marine Corps Air Station Miramar and Naval Station San Diego in California.
– Patricia Kime can be reached at Patricia.Kime@Military.com. Follow her on Twitter @patriciakime
Read Next: Pentagon Abandons Its Support for Merging the Commissary and Exchange Systems
Source: Military.com
James Rogers 
Published: April 6, 2023
Walmart has previously wrestled with inventory issues, notably in 2022
Walmart Inc.'s ambitious automation strategy will boost margin performance for the retail giant, analysts say.
This week the company described its efforts to re-engineer its supply chain with greater use of data, more intelligent software and automation. "The outcome improves in-stock, inventory accuracy and flow whether customers shop in stores, pickup, or have a delivery," Walmart (WMT) said in a statement released Tuesday to coincide with its 2023 Investment Community meeting.
Walmart says that roughly 65% of its stores will be serviced by automation by the end of fiscal year 2026. Approximately 55% of fulfillment-center volume will move through automated facilities, according to the retailer.
Walmart has previously wrestled with inventory issues, notably in 2022 when it issued two profit warnings in two months as the retail giant marked down prices to clear excess inventory. Set against this backdrop, analysts have welcomed the company's automation push.
Related:Walmart sees automation in two-thirds of its stores by fiscal 2026
Stifel raised its Walmart price target to $161 from $157 Wednesday, citing the company's tech investments. "We think technology investments in supply chain/automation should drive considerable cost efficiencies in time, with mix-accretive initiatives incrementally contributing to margin expansion and providing earnings flexibility," Stifel analyst Mark Astrachan wrote in a note.
The analyst firm came away from Walmart's investment community meeting "with a more favorable view of [Walmart] shares, seeing more upside than downside from current levels," according to Astrachan.
This sentiment was echoed by Raymond James. "We came away encouraged by the meetings and conversations with senior leadership, particularly the potential to improve margins (gross and operating income) over the next 3-5 years as automation investments and business mix shifts (growth in higher-margin businesses) hit a positive inflection point," analyst Bobby Griffin wrote in a note released Thursday.
Raymond James has an outperform rating for Walmart.
Also see:Walmart responds to report of layoffs at fulfillment centers
Wells Fargo raised its Walmart price target to $170 from $155 Thursday. "We are buyers of WMT post a bullish investor day," wrote Wells Fargo analyst Edward Kelly, in a note. "This leading omni-retailer finally looks to be on the cusp of capturing the margin upside of advanced tech investments."
Walmart's stock rose 0.8% Thursday, outpacing the S&P 500 index's gain of 0.2%. The company's shares are up 6.4% in 2023, compared with the S&P 500's gain of 6.8%.
Of 40 analysts surveyed by FactSet, 32 have an overweight or buy rating and eight have a hold rating for Walmart.
Additional reporting by Bill Peters and Tomi Kilgore.
-James Rogers
This content was created by MarketWatch, which is operated by Dow Jones & Co. MarketWatch is published independently from Dow Jones Newswires and The Wall Street Journal.
(END) Dow Jones Newswires
04-06-23 1302ETCopyright (c) 2023 Dow Jones & Company, Inc.
Source: Morningstar
Published: July 11, 2022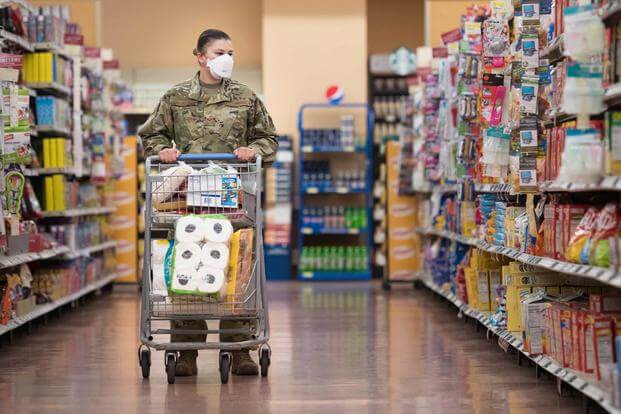 This article by Jen Goodale originally appeared on the Military Officers Association of America (MOAA) website
The Defense Commissary Agency (DeCA) used unreliable and inconsistent methodologies to calculate the annual savings realized by commissary shoppers, resulting in inflated savings figures, according to a Government Accountability Office (GAO) report released in June.
The study, required by the FY 2021 National Defense Authorization Act (NDAA), highlighted concerns with DeCA's conflicting goals and savings rate calculation methods. DeCA strives to meet two primary objectives: To be a benefit to servicemembers and their families by providing the target savings rate to its customers, and to operate like a business to reduce its reliance on appropriated funds.
DeCA operates 236 commissaries worldwide, all funded by both appropriations and revenue from the sale of goods. As commissary sales have fallen from about $6 billion in FY 2015 to about $4.4 billion in FY 2021, DeCA has worked to implement business reforms such as variable pricing, sale of private label goods, and a 5% surcharge to help improve its operations and reduce reliance on appropriations.
Since 2016, DeCA has had a global target customer savings rate of 23.7%, which it says has been met or nearly achieved over the last several years. The average savings for CONUS patrons in FY 2021 was 17.7%, compared with 42.5% for OCONUS patrons. When calculated to reflect the 81% of CONUS commissary sales and 19% of OCONUS sales, the average savings rate was 22.4%.
The report found the savings rate calculation for CONUS commissaries is accurate, as it relies on market-based price comparison data from two sources: manual shoppers and syndicated data. Yet the calculation methodology for OCONUS commissary savings relies on cost-of-living adjustment (COLA) rather than actual price data.
For example, DeCA selects a CONUS coastal region to use as a basis, then multiplies the customer savings rate of the selected region by the COLA for the OCONUS region. The savings rate calculated is unreliable because COLA includes the cost of many unrelated, non-grocery items such as transportation, services, income taxes, and so on. Additionally, DeCA does not conduct actual price comparisons of items in OCONUS commissaries against the price of similar items charged by local competitors.
GAO provided three recommendations to DeCA:
Conduct and document an analysis of whether the OCONUS customer savings rate methodology provides comparable accuracy to a market-based price comparison and make appropriate adjustments.
Conduct an analysis of tradeoffs that specifically identify the customer savings rate and related benefits, such as number, location, and operating hours of commissaries, that it can provide at varying levels of appropriation.
Update the strategic plan and supporting documentation to include all business reforms and identify goals with associated performance measures, milestones, and deliverables.
DeCA concurred with all recommendations. In this time of inflation and DoD's efforts to reduce food insecurity among military families, the commissary benefit is especially important.
Source: Military.com
Published: January 14, 2022
A commissary customer in Sigonella, Italy says their store "has consistently been empty of meat, dairy, cheese, butter, infant formula, and more for almost two months," in a post on the official Defense Commissary Agency Facebook page.
"We keep getting told that supply chain is to blame, but other overseas military installations in Italy, Germany, etc. don't look like this. Neither do stores out in town. The commissary is an entitlement to support the military and their families, which we rely upon dearly. This is unacceptable," writes Payton Leigh Perez.
In Guam, commissary customers "have to go to the fully-stocked out-in-town stores where milk is $13/gallon," writes Jenny Potter.
From Millington, Tenn., to Europe and the Pacific, commissary customers are seeing empty shelves, just like many people are seeing in civilian grocery stores. Customers have posted comments on a number of installation Facebook pages.
The commissary agency hears you. They've been fighting this problem of shortages for more than a year, but it has been exacerbated lately by the surging number of COVID cases. All military commissaries worldwide are seeing the effects of the supply chain disruption, officials said.
"We want our customers to know we are doing everything we can, and more, to get the products they need onto their store shelves, especially to our overseas commissaries," said Kevin Robinson, spokesman for the Defense Commissary Agency. "If they happen to see empty shelves in the store, please be patient; the store will be restocked often the very next day."
All product categories are affected except for meat, he said.
"In my view, the real food insecurity issue with the military right now is making sure we get sufficient quantities into the stores so people can shop," said Steve Rossetti, president of the American Logistics Association, the trade organization representing manufacturers and distributors of products that are sold in commissaries. "The Defense Commissary Agency is doing everything they can. The distributors are doing everything we can."
He said there are about 2,300 grocery items across the board where there are limited quantities available, and the commissaries and other civilian stores are allocated a certain number of those items by manufacturers. ALA has been pressing manufacturers to increase their allocations to commissaries, citing the unique worldwide needs of commissary customers.
Source: MilitaryTimes
January 27, 2020
Commissary customers' savings continued their upward trend in fiscal 2019, with average worldwide savings of 25.6 percent compared to civilian grocery stores, according to a report from the Defense Commissary Agency.
Overall, those savings are up from the 23.9 percent savings for fiscal 2018. But savings measured in overseas stores declined to 42.2 percent, from the 44 percent savings level in 2018. Officials attribute that drop overseas to the lower cost of living allowance in fiscal 2019.
The commissary agency has been required to track customer savings since fiscal 2016, in order to help defense officials and Congress monitor the commissary benefit.
Savings are calculated for overall U.S. stores, and for overseas, but they're also broken out by region.
The overall savings level for U.S. stores (to include Alaska and Hawaii) was 22.3 percent for fiscal 2019, up from the 20.2 percent level in 2018.
The commissary agency compares prices with up to three commercial grocers, including one supercenter, in the local area of each commissary in the U.S. The comparison looks at 38,000 items at a regional level and local prices on about 1,000 products that are representative of a shopper's typical market basket, officials say.
For years, the commissary savings was touted as an overall 30 percent. In 2016, as mandated by law, the commissary agency established a baseline of savings using a more thorough methodology.
Congress requires the commissary agency to maintain savings levels that are reasonably consistent with the 2016 baseline, since the agency can now use variable pricing—lowering or raising prices on items, rather than selling them at cost, as they did for decades previously. Commissary officials have had the authority to do this for several years, as a means of being competitive with local stores, and to allow commissaries to use some of the profit made to reduce the amount of taxpayer dollars — over $1 billion a year — that's used to operate the stores. Those taxpayer dollars have been a target of a number of people in DoD in efforts to save money.
One retiree contacted Military Times to say he's been shopping at commissaries for more than 50 years, "and from what I can see, prices are noticeably going up!"
The savings depends on the item, as well as the region.
For example, there are more than 900 items in the commissary's Your Everyday Savings, or YES!, program, which lowers prices year-round on items that commissary customers purchase the most. That has contributed to the increase in savings, said Robert Bianchi, a retired Navy rear admiral who is DoD special assistant for commissary operations, in the agency's report on the savings numbers.
Bianchi said the grocery department — for example, packaged foods — is the main driver of savings for commissaries in three U.S. regions, South Atlantic, North Central and Hawaii and Alaska. The fresh department —such as meat and produce — is the main source of savings for the commissaries in New England, South Central, Mountain and Pacific.
Here are savings percentages by U.S. region:
At a hearing, the Department of Defense was said to have a culture that's resistant to change. GAO stated the military is vulnerable to waste, fraud and abuse.
Author: Mike Gooding
Published: 5:34 PM EDT April 27, 2021
Updated: 5:34 PM EDT April 27, 2021
WASHINGTON — The Pentagon spends billions of dollars each year to maintain key business operations and defense-wide agencies and programs intended to support the warfighter.
The Department of Defense has long sought to improve its processes to manage contracts, finances, and supply chain.
But, the Government Accountability Office says the DOD is limited by the lack of reliable information, hampering its ability to monitor and inform its reform efforts.
01:35 / 035
"DOD suffers from an alarming lack of accurate and consistent data on almost all of its core business functions," said Elizabeth Field, Director of Defense Capabilities and Management for the Government Accountability Office as she testified Tuesday before the Senate Armed Services Committee.
Field continued, "This problem makes it exceptionally difficult for anyone who wants to drive changes. Our report cites numerous instances in which DOD data were so unreliable or inconsistent that we could not assess underlying issues."
Dr. Adam Grant, Saul P. Steinberg Professor of Management at the Wharton School of Business of the University of Pennsylvania also spoke.
He said: "I'm afraid the DOD is still, by and large, doing 1950's-era management."
Committee members expressed concern.
"These management inefficiencies and a culture of bureaucratic stasis end up costing taxpayers' money because they create unnecessary waste," said Sen. Jack Reed (D-Rhode Island).
Sen. James Inhofe (R-Oklahoma) said he's worried the military can't compete in attracting the best and brightest, especially when it comes to high-tech jobs.
"The DOD is not an attractive place for smart, talented young people to go and solve tough problems," he said.
The GAO says the Defense Department has not taken the necessary steps to achieve and sustain business reform on a broad, strategic, department-wide, and integrated basis.
And, it says, DOD's historical approach to business transformation has not proven effective in achieving meaningful and sustainable progress in a timely manner.
24 Feb 2021
Military.com | By Steve Beynon
Progressives have geared up for a funding battle to gut the Defense Department, but the Senate Armed Services Committee's new chairman doesn't expect any big moves in the next budget.
Sen. Jack Reed, the Rhode Island Democrat who leads the panel, said he expects "tighter budgets going forward, more flat than rising."
The government must juggle a DoD modernization effort to compete with near-peer threats by boosting cyber warfare and space capabilities after unprecedented spending for economic recovery efforts amid the pandemic.
"I think there's going to be budget pressure on all budgets," Reed said in a call with reporters Wednesday. "We're gonna deal with a tighter budget; we need to make judicious calls on what's worthwhile."
A lack of big surprises in the next budget potentially sets up a fight between Democrats on Capitol Hill. Progressives have pounced on the opportunity to scale back military spending in favor of investing in other parts of the government and curtailing the economic devastation caused by the pandemic.
"After the past year … spending $740 billion a year on this one piece of the federal budget is unconscionable," Sen. Elizabeth Warren, a Massachusetts Democrat who serves on the Armed Services Committee, said at a hearing earlier this month. "We continue to overinvest in defense while underinvesting in public health and so much more that would keep us safe and save lives."
Sen. Bernie Sanders, I-Vermont, who chairs the Senate Budget Committee, vowed to combat fraud and waste in the DoD and has long sought to cut its budget by 10 percent.
"Military spending, now higher than the next 11 nations combined, represents more than half of all federal discretionary spending," Sanders said in a statement last year. "If the horrific pandemic we are now experiencing has taught us anything, it is that national security means a lot more than building bombs, missiles, jet fighters, tanks, submarines, nuclear warheads and other weapons of mass destruction."
President Joe Biden said he doesn't foresee any major cuts to the Pentagon, telling Stars and Stripes in September that, if anything, there could be a slight increase in funding for emerging warfighting domains such as cyber.
2/24/2021
By Meredith Roaten
The Chairman of the Senate Armed Services Committee Sen. Jack Reed, D-R.I., said he supports maintaining current budget levels for the nuclear triad, but he expects the overall defense budget to flatten.

The newly appointed chairman of the SASC said he supported fully funding the three legs of the triad — ground-based intercontinental ballistic missiles, long-range bombers and ballistic missile submarines — he told reporters at a Defense Writers Group event Feb. 23.

"We have to modernize the triad and maintain in my view the triad for strategic reasons that have been successful for about 70 years," he said.

He noted the B-21 aircraft for the Air Force and Columbia-class boomers for the Navy specifically need to be monitored to stay within cost parameters. Both systems would replace aging weapon systems that are rapidly approaching their retirement dates, some time over the next decade or so.
The senator did not address calls from some members of his party to reduce or delay the ground-based strategic deterrent that will replace the Air Force's Minuteman III.
"But in every one of these areas, we can't avoid looking at cost and trying to minimize those costs," Reed said.
Reed added that the defense budget will likely increase at a slower rate from the Trump administration years.

He would not prioritize considering cuts to the Air Force's F-35A joint strike fighter jet program, but that he would look at analyzing the high costs and reliability issues that have been a target of critics. The service plans on buying 1,763 aircraft.

"I think we have to make sure that we send the right signal, but also don't compromise the operations of the Air Force," he said.

Congress also has to be wary of how cutting equipment would impact the defense industrial base, Reed noted. Final decisions will be made once the committee is able to weigh all these factors, he said.

Though Reed supports the push for modernization, he said there may be cuts to legacy weapons systems. Senators such as Bernie Sanders, I-Vt., have pushed for dramatic budget cuts, but the slim Democratic majority in the Senate means dramatic changes in either direction are likely off the table, Reed said.

Congress passed a more than $700 billion budget for defense for the 2021 fiscal year. "We're going to deal with, I think, a much tighter budget going forward, more flat, then rising," he said. "But within that, I think we have to make judicious calls about what is worthwhile."

He acknowledged that individual senators often have vested interests in legacy systems, which make cuts challenging.

Functional cost savings could help the defense work within a tighter budget, he said, while mentioning privatizing military commissaries as one example of a way to save on expenses without touching investment for weapons. A majority Republican Senate defeated a proposal to pilot private commissaries in 2016 after a study was commissioned to assess the costs and benefits of the program in 2015.

Meanwhile, Reed addressed opposition from Sen. Jim Inhofe, R-Okla., to the nomination of Colin Kahl, Biden's pick for the undersecretary of defense for policy.

A spokesperson for Inhofe told POLITICO that the senator has issues with some of Kahl's policy positions. The news outlet reported Republican criticism of Kahl's support of the deal with Iran, or the Joint Comprehensive Plan of Action.

Reed said he trusted the hearing process and hoped Kahl would have a chance to defend his positions and his experience during questioning next week, March 4. Kahl's long-standing relationship with President Joe Biden would help the Defense Department build a strong relationship with the White House, Reed added.

"I think he'll get a fair shot at the hearing," he said.

The senator added that the committee will "aggressively" pursue the 59 nominations slated for the Defense Department. The lack of a "real transition" to the Biden administration put the department at a disadvantage that needs to be corrected, Reed said.

"We've made the point that we need the nominees as quickly as possible … particularly after the last several years of the Trump administration, with the department really in disarray, acting secretaries and people acting for acting secretary," he said. "So we've got to get back to stability."
November 4, 2020
A customer at the McGuire Commissary at Joint Base McGuire-Dix-Lakehurst, N.J., pictured here, complains about the empty shelves at the store. (DeCA photo: John Zoubra)
Increasing shortages of groceries have ramped up commissary officials' pleas to industry to help them supply commissary shelves, and caused officials high-level Pentagon officials to consider implementing the Defense Production Act for grocery production.
It would be the first time the act has been invoked for commissaries. The problems are wide ranging, affecting many categories, such as canned goods and frozen goods — not just sanitizing products. Concerns started in the summer and early fall, and are related to various issues around the pandemic, including reduced production.
The Defense Production Act authorizes the president to require industry to give preferential treatment to national defense programs, in order to meet current national defense and emergency preparedness program requirements.
But this would be uncharted territory, said Steve Rossetti, president of the American Logistics Association, an organization of manufacturers and distributors selling products to commissaries and exchanges. "The existing regulations say that commercial items are not covered under the guidance, but then again, these are unusual times," Rossetti said. "In March, the Pentagon designated commissaries as 'mission critical' and said that extraordinary measures need to be taken to keep the stores open and products flowing."
Rossetti said the ramped-up effort involving the Defense Production Act is being discussed and coordinated with several Pentagon offices.
DoD officials did not immediately comment on whether they were considering invoking this law to remedy the shortages.
Defense and commissary officials are pursuing various options; Rossetti described it as a "full-court press to get commissary shelves filled." A Nov. 10 meeting is scheduled between commissary officials and industry representatives to discuss the issues and options for addressing the empty shelves, Rossetti said. In addition, commissary officials have scheduled "listening sessions" with major manufacturers, he said, to strengthen partnership with industry. The Defense Commissary Agency's new director, Bill Moore, and other high-level commissary officials will be involved in the sessions.
The out-of-stock rate is "much higher than normal" in stateside commissaries, said Moore, Oct. 20, during an ALA conference. "We need to figure out how to resolve that sooner rather than later," he said. The issue was brought up by numerous commissary and exchange officials during the conference.
Berry Patrick, who works in the DoD Office of Morale, Welfare and Recreation and Nonappropriated Fund Policy, also urged industry to help the military stores beef up their pipeline, particularly the allocations of products. He praised industry for working with military store officials to get products in the stores as the pandemic unfolded.
"You were doing such a good job helping keep us supplied… we had dozens of phone calls from companies asking to get products from us," he said, during the conference.
"We had to hold the line on that."
'A waste of time' to shop
In some places, the empty shelves are driving customers away. A shopper at McGuire Commissary at Joint Base McGuire-Dix-Lakehurst, N.J., said she's so frustrated with the empty shelves there that she doesn't know if she'll try shopping there again.
"As it stands now, it's a waste of time," she said. The problem has persisted for months, she said, whether her visits are on pay day, before pay day, different days of the week and different times.
The shelves were well-stocked with paper towels, toilet paper, baby items and personal care items the last time she shopped, but from there, the selections went downhill.
"Meat seemed to be stocked adequately but not as well as before. Yet sugar, spices, jarred pasta sauce, canned vegetables, frozen veggies, prepackaged lunch meat, bacon, sausage, paper plates, dish soap…. the list goes on… the shelves were bare," she said.
But it does vary. The shopper said she's contacted friends who shop at other installations who are not having the same problems. And a retiree who shops each week at the Fort Belvoir, Va., commissary said he normally goes with a list and for the most part, finds what he's looking for. Some of the exceptions he noted are turkey cutlets, Presto products, and spices that sell out quickly.
Overseas stores first
From the beginning of the pandemic, Defense Commissary Agency leaders prioritized shipments for overseas stores in Europe and the Pacific because of the limited options some of those customers have outside the gate, and in many cases, customers weren't able to shop outside the gate. As products become available, the first priority is those overseas commissaries. The agency also arranged for multiple emergency air shipments as required. Commissary officials have also worked with suppliers within the overseas theaters to buy products offshore to supplement critical items that may not be available from the U.S., said commissary agency spokesman Kevin Robinson. "As a result, DeCA's overseas central distribution centers and meat processing plant have sustained outstanding in-stock rates throughout the pandemic," he said.
That's left stateside stores short. According to ALA's Rossetti, the pipeline for some overseas commissaries is 55 days, "forcing distributors to fill overseas orders and leaving little, if any, product for stateside stores."
Robinson said DeCA leadership is working with industry to to try to get as much of available product as possible, to include working on one-time buys and alternate items to help supplement regularly stocked items that may not be available.
Are commissaries not getting their fair share?
But commissary officials are seeing indications that commissaries may not be getting their fair share of products, compared to stores outside the gate, said Chris Burns, DeCA's executive director of sales, marketing and logistics, during the ALA conference.
He said he's starting to see industry data that indicates some brands and categories are growing in stores outside the gate, but not in commissaries and other stores in the military channel of business, and allocations of products are moving forward to other retail companies.
"We want to be treated as the number one retailer in your company and we need that message to get up to your CEOs," he told the industry representatives.
"If you say that the military channel is just another channel, then I would ask, is the military patron just another patron?" He urged industry representatives to talk to their company leaders about the military lifestyle and the sacrifices service members and their families make, and why commissaries exist.
"We have a statutory requirement to provide savings, whether in the exchange or commissary, as a benefit, and we shouldn't have to force them to go outside the military installation" because the products are not on the shelves, Burns said.
Military Times asked the Consumer Brands Association about concerns that the industry isn't providing a fair share of products to military stores.
"With COVID cases spiking around the country, winter on its way and uncertainty around the election, purchasing patterns have stabilized, but are far from normal," said Tom Madreki, vice president of supply chain and logistics for the association. "While some segments are steadying, others— like cleaning and even more specifically, disinfecting products — continue to see record demand.
"The industry is working around the clock to manufacture products and [is working] with its retail and distribution partners and [Defense Commissary Agency] leadership to get them in stores and on the shelves around the country," he said, in an email response.
In some cases, manufacturers' production rates on certain products are running at about 40 to 60 percent of what they were producing before the pandemic, said Tom Gordy, president of the Armed Forces Marketing Council, an organization of firms representing over 400 manufacturers who supply consumer products to military resale activities worldwide. "There's extreme competition" for products, he said, and some of the largest retailers outside the gate are getting the larger allocations.
All retailers are going to manufacturers asking for higher allocations of products, Gordy said. "It's just a fierce environment right now."
There are many factors affecting grocery stores and manufacturers in general, said Rossetti and Gordy, such as more demand as more people are eating at home during the pandemic; a nationwide shortage of truck drivers that started long before the pandemic; a nationwide shortage of aluminum; effects of COVID on manufacturers' work forces.
And the military channel is affected in different ways, as the number of customers increases and decreases as some bases have limited access to retirees and curtailed their commissary shopping.
Between the manufacturer and the shelf there are many possible "points of failure" for that product, Gordy said, such as:
*the store not getting as much of a product as they ordered, or not getting the product at all.
*backlogs on the part of the distributor causing delays in getting the product to the store.
*stores ordering the wrong products, to include items that have are no longer being manufactured. Some companies have simply stopped producing certain products to focus on other products in higher demand.
*the product just doesn't get ordered.
*problems in getting the product on the shelf when it gets to the store. The commissary staff has to sort products in the back of the store. From there, contracted vendor stockers put it on the shelves.
Karen Jowers
January 26, 2021
After a couple of years of increases, commissary savings slipped in U.S. stores in 2020, according to results from the most recent commissary savings report.
Savings in U.S. commissaries decreased by 1.2 points — down to 21.1 percent in 2020 from the 22.3 percent savings calculated in 2019. Commissary officials compare prices in each geographic area to determine how much, on average, a commissary shopper could expect to save on grocery purchases compared with local commercial grocers in that area outside the gate.
Factoring in the overseas savings which increased by 0.4 points – to 42.6 percent — average worldwide savings declined by 0.6 point from savings in 2019, to 25 percent savings worldwide, officials stated.
"Natural variations in pricing are expected, given free market dynamics where suppliers and retailers compete," said Defense Commissary Agency spokesman Kevin Robinson when asked about the decrease. He noted that DeCA's calculation for savings includes both internal pricing data and external data from commercial grocers.
"Despite these variations, our goal is always to provide the commissary benefit as consistently as possible," he said, in an email response to questions.
The 2020 savings percentage is still above the savings level required by law. Commissaries have to maintain savings consistent with the global 23.7 percent savings baseline set in the fall of 2016 before these military grocery stores went to a new pricing system.
"The commissary still represents a huge value to military families," said Nicole Russell, government relations deputy director for the National Military Family Association. "The uptick in commissary sales during the pandemic illustrates it's a vital resource to families, particularly those struggling financially."
The commissary agency has been required to track customer savings since fiscal 2016, in order to help defense officials and Congress monitor the commissary benefit.
Congress requires the commissary agency to maintain savings levels that are reasonably consistent with the 2016 baseline, since the agency can now use variable pricing — lowering or raising prices on items, rather than selling commissary items at cost from the vendor, as they did for decades previously. The stores also require a 5 percent surcharge on the purchases, added at the cash register, which helps pay for new or renovated commissaries.
Commissary officials have had the authority to change prices since 2017, as a means of being competitive with local stores, and to allow commissaries to use some of the profit made to reduce the amount of taxpayer dollars — over $1 billion a year — that's used to operate the stores. The taxpayer dollars going to the provide the commissary benefit have been a target of a number of people in DoD in efforts to save money. The Senate Armed Services Committee has directed the Government Accountability Office to report on the extent the commissary agency has implemented reforms, and to report on the effect these reforms have had on customer savings and satisfaction, among other things. Lawmakers note that commissary sales fell from $5.5 billion globally in fiscal 2015 to $4.5 billion in fiscal 2019
The commissary agency also received more than $34 million in COVID relief funds in 2020 for personal protective equipment, cleaning and disinfecting supplies, increased store hours for part-time employees to help with store cleanup and shelf stocking, and to pay for additional air shipments to Europe and Pacific and truck deliveries to meet surge demands for products for overseas customers.
The 1.2 point decrease in savings in the U.S. "isn't significant, given everything that's happened. I think they're holding steady, given the circumstances," said Steve Rossetti, president of the American Logistics Association.
The commissary agency compares prices with commercial grocers, including at least one supercenter, in the local area of each commissary in the U.S. The savings comparison measures about 38,000 specific items at a regional level, and local prices of about 1,000 products that are representative of a shopper's typical market basket, officials said.Each quarter, the agency does comparisons of one-fourth of the stores, with all the stores undergoing market basket comparison over the course of a year. But in 2020, COVID caused the agency to cancel comparisons scheduled from April through June, because of considerations about physical visits to stores. Officials said that loss of one quarter of the store surveys "did not have a statistically significant impact on the savings levels.
The situation with COVID-19 has caused a variety of problems for the Defense Commissary Agency. Although defense officials declared the stores to be essential and they were kept open, there have been rampant restrictions on entry at a number of bases, which affected any customers, including retirees. Commissary officials have also had problems with shortages of products, and have raised concerns that they weren't getting their fair share of products from vendors, in comparison to civilian stores. Civilian stores' volume has been increasing.
The volume has dropped off significantly, which pushes up the cost per unit being shipped.
In the 12 months ending in December, grocery prices increased overall by 3.9 percent, according to the Consumer Price Index. The Defense Commissary Agency doesn't release information about the overall price increases specifically in commissaries, as it considers pricing data to be proprietary.
The commissary agency's savings report compares prices with civilian stores to determine the level of savings the benefit offers.
Here's how much you're saving, based on where you live:
Champion of Change_January 2017 Article highlighted
Defense Commissaries:
DOD Needs to Improve Business Processes to Ensure Patron Benefits and Achieve Operational Efficiencies
GAO-17-80: Published: Mar 23, 2017. Publicly Released: Mar 23, 2017.
Full Report Link:  http://www.gao.gov/products/GAO-17-80
WASHINGTON, April 28, 2016 /PRNewswire-USNewswire/ — Next year's Defense spending bill passed out of the House Armed Services Committee with many pro-worker provisions endorsed by the American Federation of Government Employees, including an amendment to reverse steep cuts in travel expenses for civilian employees who spend months away from home supporting our warfighters.
If last year is any indication, lawmakers may not be receptive to suggestions about cutting the commissary budget to such a severe degree. In their fiscal 2015 budget request, DoD proposed cutting $200 million in DeCA funding, the first phase of a proposed three-year plan to slash the DeCA budget by $1 billion. In the end, lawmakers restored that $200 million to the budget.
Lawmakers have taken a first step toward privatizing commissaries, approving legislation that would require a pilot program to test the concept of private companies operating at least five commissaries at large installations.