Expansion of Commissary Grocery Deliveries on Hold, for Now
Patricia Kime
Published: May 3, 2023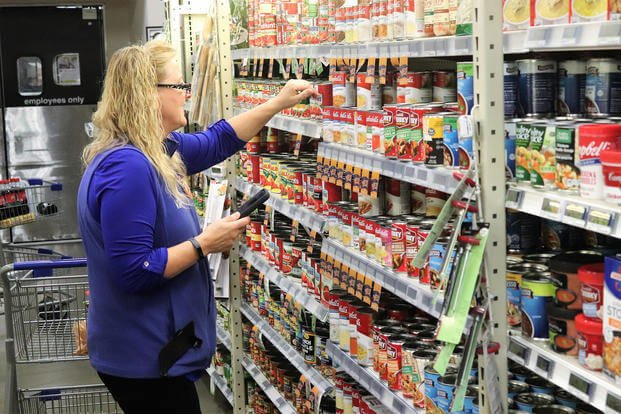 The expansion of a popular grocery delivery program to all military commissaries in the U.S. is on hold while Defense Commissary Agency officials explore how to ensure it is economically feasible for customers, delivery providers and the government.
Commissary spokesman Kevin Robinson said Tuesday that the cost of Click2Go delivery has risen and more research is needed to find a "sustainable and cost-effective" long-term delivery solution before the program can grow.
The pilot program, an extension of the agency's Click2Go curbside pickup program, was introduced a year ago to eight stores in major markets and is set to run through at least June 1.
Read Next: Pentagon Sends 1,500 Active-Duty Troops to Border as Pandemic Immigration Restrictions End
Delivery fees originally were $3.97 per trip, but beginning March 1, the prices skyrocketed to a minimum of $10.99, depending on installation, for those who live one to five miles from a store, and to $29.99 for deliveries 16 to 20 miles from a store.
Delivery fees from popular grocery stores such as Walmart or Giant depend on the size of the order, ranging from $6.95 to $9.95, with discounts for memberships. Other options, such as Instacart, also offer an annual fee for an unlimited number of deliveries for orders that meet a minimum limit.
According to the Defense Commissary Agency website, the delivery fees for Click2Go were set by the contractor and not the Department of Defense. The chief executive officer of ChowCall, one of two food delivery companies that was awarded the contract last year, told Military Times that the financials were "very difficult to make it work" and that he's been working with the Defense Commissary Agency, or DeCA, to find solutions.
"My interpretation is that they're trying to find that sweet spot of how to make it viable for a contractor while staying true to their mission of improving quality of life for service members, families and other authorized commissary customers," CEO Todd Waldemar told the publication, which first reported the price increases and delay.
ChowCall was awarded the contract alongside the delivery company Rivet, which left the program in February. Waldemar did not respond to requests by phone or email for comment.
Nearly 20,500 orders were filled under the Click2Go delivery program between May 18, 2022, and March 31, amounting to nearly $2.4 million in sales. The service was most used at Fort Belvoir, Virginia, with 5,013 orders, and was least popular at MacDill Air Force Base in Tampa, Florida, with just 975 orders during the time period, according to DeCA.
System-wide curbside pickup and home delivery have been long-term goals for DeCA leadership to ensure that the stores remain competitive with civilian grocers. DeCA launched curbside pickup in 2019 at 12 stores, but it accelerated the timeline for expansion during the pandemic, with all 236 commissaries offering online ordering and pickup as of late 2021.
Originally, there was a $4.95 fee for pickup orders, but that was waived during the pandemic to encourage use, and the fee has not been reinstated.
Click2Go curbside pickup is an enormously popular program, with orders tripling from 77,000 in 2021 to 246,000 in 2022, according to DeCA. To date, more than 96,000 orders totaling $14 million have been made.
Commissaries, which are subsidized by up to $1.4 billion per year by the federal government, provide groceries at discounted prices to service members, retirees, family members and disabled veterans. The stores must provide a baseline savings level for customers, currently 25% less than community stores, as measured by the "local market basket average," calculated through surveys of stores in surrounding communities.
This doesn't mean all items cost one-quarter less than a consumer would find at a civilian store, but it is based on price comparisons with stores, including supercenters like Walmart.
Commissary shoppers also pay a 5% surcharge, which covers the cost of construction, maintenance and renovations.
Defense Department officials say they're seeking solutions to address the rising prices of grocery delivery and, in April, issued a solicitation seeking ideas, insights and practices from those who deliver groceries in the civilian space.
DeCA had plans to meet with relevant companies April 21 to discuss.
"DeCA has placed delivery expansion on hold as the agency performs additional market research to determine a delivery model that best supports our patrons," Robinson said.
In addition to Fort Belvoir and MacDill Air Force Base, Click2Go delivery is available at Scott Air Force Base, Illinois; Fort Bragg South, North Carolina; Naval Station Norfolk, Virginia; Joint Base Lewis-McChord, Washington; and Marine Corps Air Station Miramar and Naval Station San Diego in California.
– Patricia Kime can be reached at Patricia.Kime@Military.com. Follow her on Twitter @patriciakime
Read Next: Pentagon Abandons Its Support for Merging the Commissary and Exchange Systems
Source: Military.com